LJfitness Mexican partners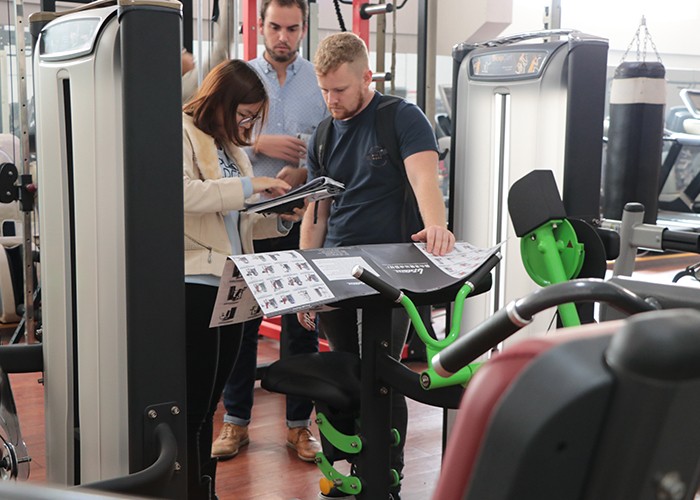 Mexican partners come to our exhibition hall to visit the physical fitness equipment
Mexican customers purchased gym equipment from us in 2018.In the process of communication with the customer, we learned about the customer's gym layout and procurement details.
The client's gym is a medium-sized one, and we hope that the more equipment we have, the better.The equipment that opens a gym place to need is oxygen equipment and strength appliance, according to appliance different, the function that takes exercise also is different, oxygen appliance basically is aimed at reducing weight crowd, strength appliance is to use those who take exercise muscle.As a professional manufacturer of commercial fitness equipment with many years of experience, we produce and sell all fitness equipment and indoor sports products used in gyms.We introduced our aerobic equipment to the customer in detail.
First of all, there are professional commercial treadmills. We have a variety of models and prices to choose from. There are also touch-screen treadmills and touch-tone treadmills to choose from.We have the best high quality commercial spinning bike, but also the cheapest spinning bike, spinning different types of flywheel weight is not the same, according to their own needs.In addition to exercise spinning bike, we also have commercial vertical upright bike and recumbent bike, the hot sale indoor commercial magnetic upright bike is 9601A this one;In the near future we will also have a new quality of life exercise fitness magnetic recumbent fitness bike sales.Elliptical machine is also a necessary aerobic equipment gym, we have the most professional quality of the best commercial life fitness body fit elliptical machine.In addition to these, we also have stair stepper machines, rowing machines and so on, rowing machines we have sitting water resistance rowing machines, magnetic resistance rowing machines (foldable).During the communication, the customer also tried some fitness equipment and communicated about the differences of each fitness equipment.During the whole communication process, the customer was quite satisfied with our products, and we could feel that the customer had great interest in our products, so after communicating with some details and requirements, they signed the order with us.
The following is the picture of our company's exhibition hall equipment :